I Received my PayPal SecureKey Today
Written by
Mark Sanborn
: May 15, 2008
Well, today I received my Paypal SecurityKey. I have been really excited to try this device and I have been anxiously waiting for its arrival. Today I finally received it and overall I really like it and I am glad I got it. The key came a little faster than they said it would, but I was so excited to try it out that it seemed like a life time. When it finally came I was ready to try it.
What I like about it
I love knowing the fact that someone on the internet can have full knowledge of my username and password and still not be able to log into my Paypal or Ebay account. Another thing that I like is that as a side effect the device protects against phishing attempts. If a phishing site masquerading as Paypal attempts to ask for my username or password without also asking for my security key I will know right away. This alerts me and sends a red flag, Don't enter any personal information into this site. If I accidentally type my username or password into the phishing site it wont matter because in order to log into successfully to my Paypal account that attacker would need both the login credentials and the physical Paypal security device in their possession.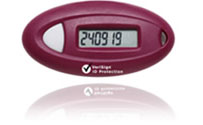 The device is a little smaller than I expected which is a good thing. It is small enough to attach to a key chain. What I did was attach it to a lanyard that also carries my USB thumbdrive.
The Paypal SecurityKey is cheaper than Verisign's SecurityKey, which is another reason to like it. Paypal is actually subsidizing this device and losing money on the deal. They offer the device for only $5.00. These devices purchased directly from Verisign are $30.00. I think the $5.00 charge is there to make sure we actually use the device if we get it.
Where I can use it
The cool thing about the Paypal SecurityKey is that it is actually a Verisign SecurityKey (for a lot cheaper). This means that the device can be used anywhere that Verisign keys are accepted. As we know Paypal is owned by Ebay so naturally you can use your PayPal Security with Ebay at no extra cost, which is cool. Ebay and Paypal are probably the most attacked and targeted sites for phishing and exploit attacks. Having the extra layer of protection that this device provides is especially useful for these sites.
You can also use the Paypal SecurityKey anywhere that supports the OpenID authentication system. There are a number of sites that support OpenID one of which is Verisign. They have their own OpenID site. If you haven't checked out OpenID you should. I just wish OpenID was supported by more web services.
Use the Same Technology for Free
If you want to use this multi-function authentication system offered by Paypal, Ebay, OpenID and others but not sure you want to pay the $5.00 you can add the Verisign program to your existing USB thumbdrive. Currently it looks like the program only works on sandisk drives that use the U3 technology. You can download the program from Verisign's Identity Protection Center. I personally can't stand the U3 technology and remove it from all of my thumbdrives, so I haven't had a chance to actually try Verisign's U3 program. If anyone tries it please comment below and let us know how the installation went and the ease of use.
Need to print shipping labels on your site?
Checkout my product RocketShipIt for simple easy-to-use developer tools for UPS™ FedEx™ USPS™ and more.